SoftCoil Development was founded to provide innovative software solutions to companies in the prepaid debit, stored value and under-banked financial services industries. Founded by industry veterans with experience dating to some of the first open network prepaid products to reach market, SoftCoil's premiere product, the SoftCoil Program Management suite offers a complete platform for the provisioning of prepaid financial services to the marketplace.
Cavan Morris, Founding Partner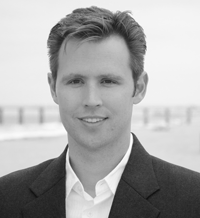 Cavan was one of the original developers of the first peer to peer money transmission system based on pre-paid debit cards in the world and served as Chief Technology Officer for that system from 2007 through 2010. As a founding member of that team Cavan, along with the three other original team members, has the distinction of being one of four people with the most experience with such a system in the world.
As well as innovating in the prepaid space for the past decade, Cavan developed the first mobile phone app that allowed users to send money instantly from their phone. Many of the features seen in that app have since become common in apps from companies like PayPal and USAA.
Cavan received a Bachelor of Science degree in Engineering from Harvey Mudd College in 2000.